OlyBet Kings of Tallinn, 16.02 - 22.02.2015
Posted on 20. November 2014
First ever Olybet Kings of Tallinn Poker Festival will be held on 16-22 February 2015 in Tallinn, the stunning capital of Estonia.
The festival will be held at the Radisson Blu Hotel Olümpia and Olympic Casino. During the festival 20 action-packed tournaments will be held, culminating with the €1100 Main Event being held on 18-22 February. Cash games are available 24/7.
Full information about the festival is available here: http://kingsoftallinn.com
Satellites at OlyBet poker room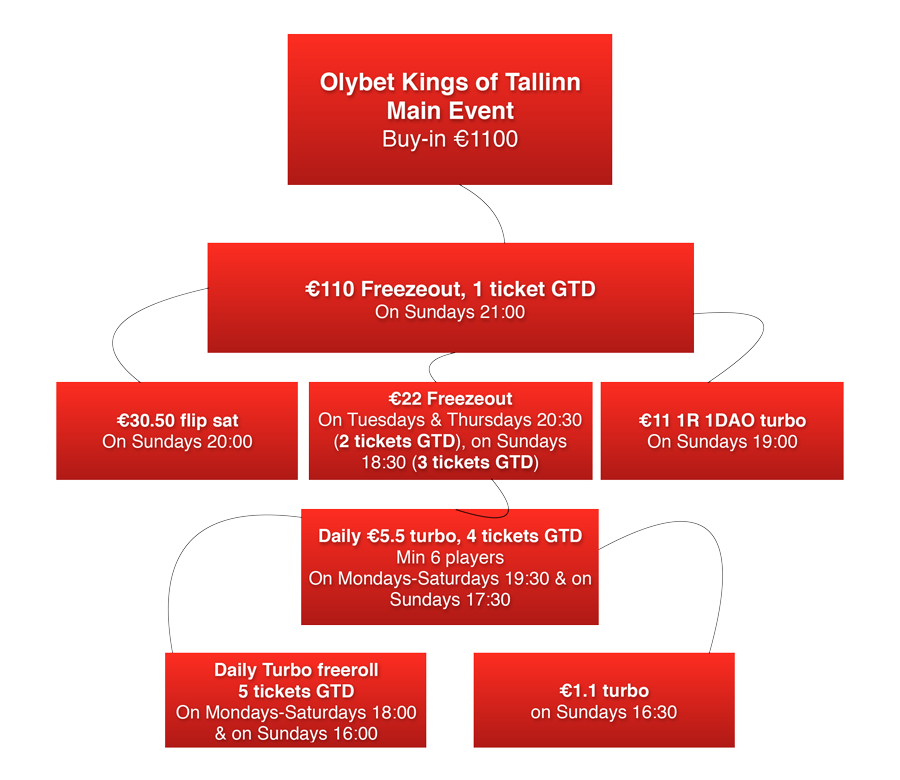 €10 000 for best team?
It pays off to join Olybet Kings of Tallinn poker festival as a 4 member team and participarte in as many tournaments as possible. 2% of the prize pool of the festival tournaments will be set aside for the overall team prize. Register your team HERE.
Early Bird Bonuses
We want to reward your quick judgement so book your Main Event seat by 22 December 2014 for serious extra value:
1. We will hold a draw at the start of the festival and one very lucky early bird will receive their Main Event buy-in back
2. We will pay 10% of your accommodation costs, in addition to the great prices we already negotiated for our players, when you stay in any of our three partner hotels during the festival
3. In addition, you will receive a staggering 50 euro bar credit upon your arrival for an even more fun
Thanks to our cooperation partner!
Good luck at the tournaments!
Olympic Poker Club